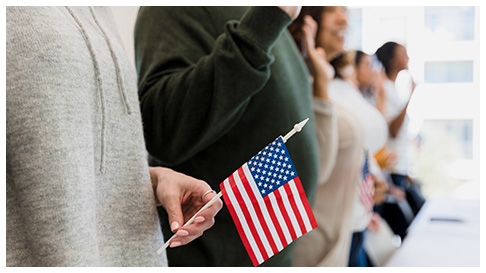 Naturalization: Becoming A U.S. Citizen
Yuba City Naturalization Lawyer
The United States government offers considerable benefits to its citizens, many of which aren't available to green card holders. When you complete the naturalization process, you will have the right to vote in elections at all levels of government. You will be able to get a U.S. passport. You will have the full protection of the U.S. Constitution. You will be able to sponsor your relatives who live abroad for a visa or permanent resident status. Becoming a citizen is possible when you follow the relevant immigration law guidelines, and it is worth the effort.
A Yuba City attorney can assist you with the naturalization process, to make it go as quickly and easily as possible. First, you must wait 5 years from the date you received your green card, and you must have lived in California for at least 3 months before you can apply in this district. You will have to demonstrate your ability to read, write and speak English and display a basic understanding of U.S. history and government. Additionally, you have to show that you are a person of "good moral character" and that you will help to uphold the Constitution.
Applying for Naturalization
Come to Attorney Sarbdeep Atwal when you are ready to apply for naturalization. I understand how important it may be to you to become a citizen, and I will work diligently to help you successfully apply. One of the most important steps in the naturalization process is your interview with an agent from U.S. Citizenship and Immigration Services. I can assist you in preparing for this meeting, to ensure your success. Don't take any chances with your application, let me guide you along the way.

DMV Negligent Operator

Domestic Violence/GBI on Spouse

Felony Assault with a Deadly Weapon

First Offense DUI

First Offense DUI